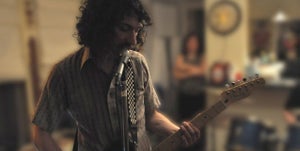 $

20.00
An Intimate Evening With Swearing At Motorists
Sunday December 10, 2017 8pm
in Williamsburg, NY 11249
SOLD OUT
$20
Please set your spam filter to accept e-mails from "houseshows@gmail.com"
TICKETS AND DETAILS ABOUT THE SHOW WILL BE E-MAILED TO YOU A FEW DAYS AFTER YOUR PURCHASE.
LIMIT 4 TICKETS PER PERSON.
You will be e-mailed a confirmation from Swearing At Motorists a few days after your purchase. Please print and bring this confirmation and photo ID to the show. Your name will be on a list at the door. You must have the printed confirmation to get in. If you buy multiple tickets they will all be under the name of the purchaser and the other people will need to arrive with the purchaser (example: Ted Danson + 3).
No tickets will be sold at the door. You must buy tickets here to get into this show.
You can start arriving at 7:30pm. The show will start at 8pm and will run until about 9:30pm. We ask that everyone be out of the house by 10pm unless the host agrees to a later time on the night of the show.
IMPORTANT: This show is a solo electric performance being hosted in a private home. It's not a party. Please be respectful of the performance, the hosts and their home.
SEATING: Most of the shows will not provide any seating. You should bring a pillow or cushion to sit on the floor.
ALL SALES ARE FINAL. SORRY, NO REFUNDS: If you buy a ticket and can't go we can transfer the ticket to one of your friends. Please get in touch with houseshows@gmail.com at least one week before the show.