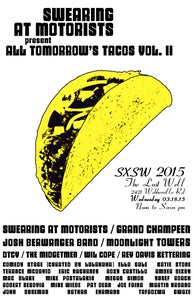 $

15.00
T Shirt Pre-Order:
to commemorate Swearing At Motorists 2nd annual SXSW day party, we are printing a limited edition of 200 t-shirts of the show poster.
these will be available for Pre-Order only & will also serve as a ticket to this event.
THESE MUST BE PICKED UP AT THE PARTY IN AUSTIN, NO SHIPPING!
the show is FREE & YOU DON'T NEED TO BUY A SHIRT TO ATTEND,
but the purchase of a shirt WILL GUARANTEE YOU ENTRY,
as all proceeds will go towards covering the costs of the party...
PRE-ORDERS WILL END Thursday March 5th